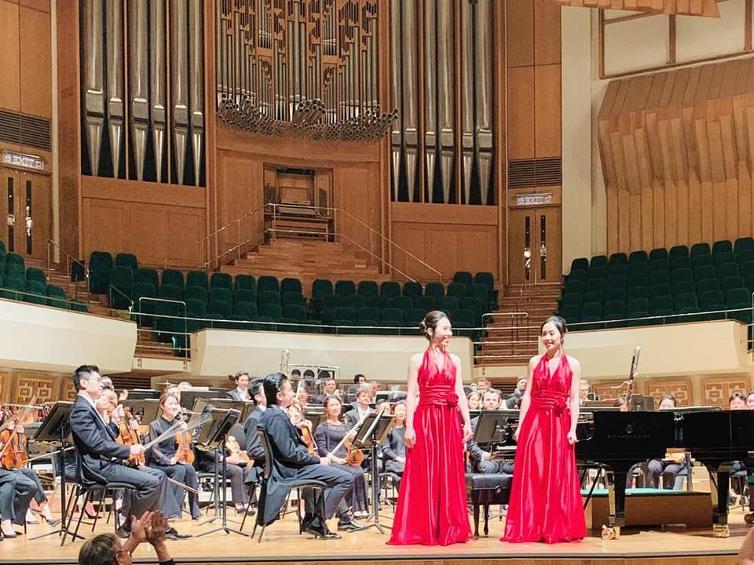 As the founder of the Hong Kong Piano Duo Association and Honorary Artists of the Foshan Grand Theatre, Duo Ping Ting (Lok-Ping and Lok-Ting Chau) is active in both performance and education. They host piano duo workshop in the Hong Kong University School of Professional and Continuing regularly, as well as giving masterclass and performance worldwide. The duo engaged with music organisation to promote classical music in school outreach programme and community centres, including cooperation with the Dranoff Two Piano Foundation in Miami, Wennigsten Cultural Association (Germany), the Chamber Music for Life Hong Kong, the Hong Kong Musicus Society. In addition, they are invited as adjudicators in many local music competition. Recent achievement included 'the Beethoven 32' recording project hosted by the Radio Television of Hong Kong.
The Duo performs regularly with the Hong Kong Philharmonic Orchestra. Other engagements included the Bavarian Radio Symphony Orchestra, New Zurich Orchestra, Bialystok Symphony Orchestra, Symphony Orchestra of Sichuan Conservatory of Music. Besides, they worked with world renowned conductors Jun Märkl and François-Xavier Roth, as well as musicians such as Jean-Yves Fourmeau, Dong-Suk Kong, Sebastian Krunnies, Dorian Xhoxhi and Trey Lee.
The Artists have gained a wide recognition of their finest musicality and their fascinating matches of sound. They won significant reviews from the German news: "Duo Ping Ting reacted precisely and harmonically together with a matching of sound in an unbelievable manner" (South German Post) "There is no trace of showing off, instead a deep immersion in the content of the work, a charming change between rhythmic sharpening and soft sliding." (South West Post of Germany).
Duo Ping Ting is top prize winner of several prestigious international competitions. Their awards included:
3rd Prize at the 64th ARD International Music Competition in Munich, Germany (2015)

2nd Prize and Audience Prize at the Grieg A Deux Two Piano Competition in Oslo, Norway

(2014)

"André Hoffmann" Prize at the renowned "Sommets Musicaux de Gstaad" International Music Festival in Switzerland (2014)

2nd Prize at the San Marino International Piano Duo Competition (2010)

1st Prize and two best interpretation prizes at the International Piano Duo Competition in Bialystok, Poland (2008)
They performed extensively in numerous music festivals:
2020 Joy of Music Festival, Hong Kong

2020 Autumn concert with the Hong Kong Children's Symphony Orchestra

2019 Masterclass and two pianos recital at the Hainan University International Music Week in China

2019 The Jockey Club Musicus Heritage Alive-Chamber Music Series

2019 Concert tour with the Hong Kong Philharmonic Orchestra in China, and premiere of 'Quotation of Dream ' from Takamitsu

2018 The 1st Foshan Piano Art festival

2018 The 46th Hong Kong Arts Festival

2017 Chamber Music Festival - Liesborn, Germany

2017 Collaboration with the Hong Kong Philharmonic Orchestra

2016-2017 Invited by The Hong Kong Economic and Trade Office New Year for concert tour in Europe

2016-2019 "Musical del Cuore"

2015 Recital at the Kulturkreises Kloster Wennigsen, Germany

2014 invited by the Dranoff Two Piano Foundation to collaborate the school project "Piano Salm" in more than 20 high schools in Miami.

2014 the "Sommets Musicaux de Gstaad" in Switzerland

2014 Four Hands recitals - Stadthagen and Braunschweig, Germany

2014 the First Piano Duo Festival - Gedánsk, Poland

2013 Four Hands recitals at the SØR-Master Concerts - Oelde and Münster, Germany

2012 Joy of Music Festival, Hong Kong

2012 the 40th Hong Kong Arts Festival

2010 the Fifth Gulangyu Piano Festival - Xiamen, China. 2009 Festival 'Vacations with Music' - Nowy Sącz, Poland
Ping and Ting obtained Master of Music with First Class Honour at the Hong Kong Academy for Performing Arts and the University of Music,Therter and Media Hannover in Germany, with full support from the German DAAD Scholarship and the Hong Kong Jockey Club Scholarships. Their teachers and mentors included Eleanor Wong, Alexander Tamir, duo Aglika Genova and Liuben Dimitrov, duo Yaara Tal & Andreas Groethuysen.
For detailed achievements in teaching please see 'Honorary & Teaching awards'.